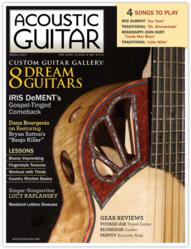 Clearwater, Florida (PRWEB) February 11, 2013
Chris and Jeremy Jenkins, the father and son duo that run custom guitar shop Lame Horse Instruments, will have one of their guitars featured on the cover of the upcoming March issue of Acoustic Guitar Magazine. Their most popular guitar, the Saddle Pal, was named by Acoustic Guitar Magazine as one of 8 custom guitars "to die for."
The small guitar has recently acquired a new design, which accounts for its sudden recent increase in popularity, made possible by adding BobCAD-CAM V25 software and machining into the creation process.
Since we introduced CAD into our process, we have been able to take it to a new level visually, said Chris. This has attracted many new admirers for the Saddle Pal.
Lame Horse Instruments has only been using cnc for roughly one year, but has started to excel creatively within the design program thanks to the BobCAD-CAM training class that Chris attended last summer in Dallas.
I am a better designer than I am a craftsman, stated Chris. Therefore, designing with a CAD program which makes it easier for me to create the things I can imagine, has been a huge step forward for the instruments that my son, Jeremy, and I build together.
The rosette, area around the sound holes on the top of the guitar, on the Saddle Pal was one of the first things the custom guitar designers created and cut with the help of computer aided design.
Lame Horse Instruments also designs, builds, and restores banjos, ukuleles, acoustic guitars, electric guitars, and double neck thin line hollow body electric guitars. Their shop uses BobCAD-CAM V25 CAD, Mill, Nesting, and BobArt.
We are looking forward to using BobCAD in the future to create many things that we were only able to imagine in the past, said Chris.
To learn more about the BobCAD-CAM V25, download a free trial at bobcad.com or call 877-262-2231 today.