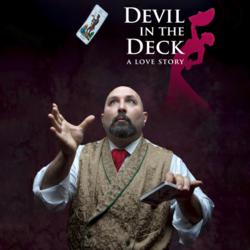 Edinburgh, Scotland (PRWEB) May 11, 2013
Devil in the Deck is moving from Zoo Venues to Pleasance Theater for the 2013 season. Producers made that announcement today via twitter and on their web page. The move comes as no surprise given the unprecedented success of the producer's other show, The I Hate Children Children's Show which blew away box office records last year and was the number two rated show among critics according to The List Magazine. Devil in the Deck has always done very well with critics and audiences in San Francisco where Nathan is well known but has never gotten the kind of run away success that the children's show has seen at the Edinburgh Festival Fringe.
First produced in 2003 at San Francisco's prestigious Climate Theater, Devil stars Paul Nathan (HBO, MTV, Star Trek Voyager) as Jack Swindle. Jack is a gambler who is cursed by a bad tarot reading. Jack spends his life learning to cheat at cards so he can break the gypsy spell and cheat death. Because the show is about a gambler each of the card tricks fits into the show without seeming forced.
The entire show is set to live music played by John Anaya (Paco's Revenge, Face the Giant), who plays guitar and acts as comedic foil to Jack's ernest story telling and magic. "I wrote this story with my director, Drew Letchworth. We had always intended to have a guitarist accompany the words but didn't know who we wanted. I decided to post an ad on CraigsList and see what happened. John was the third guitarist to step in and the last. We knew from the first chord that John was our musician.
The show is part concert, part magic show, and part story telling with virtuoso performances of all three. Nathan is one of the most charismatic performers working on stages today as well as one of the finest magicians. Devil in the Deck is a showcase for Nathan's skills and is at times almost poetic but Nathan credits the music for driving much of the emotion of the show. "Creating moments of sublime laughter and moments of shared loss and sadness is easy" said Nathan of the show, "Conveying the nuance between laughter and tears is challenging and far more rewarding. The music communicates those subtle emotions in a visceral way that words alone can't."
Devil in the Deck plays daily at The Pleasance Theater during the Edinburgh Festival Fringe 2013, August 2-26.