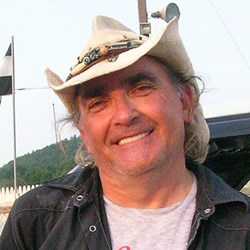 Atlanta, GA (PRWEB) July 07, 2013
Eric Sommer and Jack Daniels are making beautiful music together at Smith's Olde Bar in Atlanta.
Jack Daniels' Tennessee Honey and Eric Sommer combine to present a special Tennessee Honey Concert Series at Smith's Olde Bar in Atlanta on July 8th, starting around 8pm. The Concert Series is presented by Nolan Reeves Music, Atlanta.
On Monday, the 8th of July, find one of the finest American guitar players, writers and accomplished troubadours in the land holding forth with guitar and voice, 200 songs and 500,000 road miles under his belt – Eric Sommer.
Smith's Olde Bar, at 1578 Piedmont Ave NE Atlanta, Georgia, is an ideal setting for this American troubadour – this legendary music room has hosted some of the greatest bands in the country, and launched the careers of many a singer, rocker and writer, so it's a fitting setting for Eric Sommer to introduce new songs off his latest record RAINY DAY KARMA, and to stretch out on a few tunes with his vintage and colorfully cheap guitars – sea-foam green, black, one loaded with pearl inlay, a '69 Telecaster, a 1937 Valco Shield 10watt amp.
New songs include "I Caught a Cab" and "Europe, Europe" and the alt rocker favorite "Red Queen". The songs were recorded in Pittsburgh and the vocals were mastered in Nashville by Jeff Silverman. It is a tour de force of guitarin', singin' and songwritin'… all wrapped together.
There are some controversial themes as well – double suicides in Las Vegas (Red Queen), living on the edge, in a closet with one window, no water and no heat (White Knucjkle Girls) and watching everyone you know be either dead, dying or not feeling very well (Cover My Soul in Gasoline). Of the many outstanding cuts on a disc loaded with them is "Cover My Soul in Gasoline."
One of the noticeable standouts in any Eric Sommer show is the on-the-fly improvisational approach to many of the breaks, solo sections and dramatic lulls in an "audio-wash, wall-of-sound" presentation.
And what's a bit remarkable is that all this sound comes from six small stage amps.
Eric started his musical career in the Boston area and has been a regular player on many national tours and showcases. He worked in Europe for 2 years on Danish, German and British rock stages, returned to Boston and formed The Atomics, a cult power-pop band in South Boston. His influences are as diverse as Townes Van Zandt, Steve Earle, Steve Howe and The Ramones. Mr. Sommer's current project with power trio "The Solar Flares" shake up Chet Atkins and David Bromberg influences with those of Randy Travis and Elvis Costello – a remarkable mix.
With open tunings, slide guitar, lap-slap tone guitar and a remarkably aggressive fingering style approach, watching Eric Sommer will make you jump out of your seat and holler for joy! There are very few players who have maintained this authentic American style of guitar and Eric Sommer is one of the very best.
Amen.
_________________________________________________________________________
For music samples, please visit Eric Sommer online for additional schedules or contact him at eric(at)ericsommer(dot)com or call 202-255-1995. Additionally, you can find Eric Sommer on Facebook, too. RAINY DAY KARMA is also available on iTunes and CDBaby.
Eric Sommer is represented by Clyde is Thinking, and PR programs are managed thru MTG/NY; For more information, promo/appearance requests or to set up an interview, please contact Tom Monihan 202-255-1995.