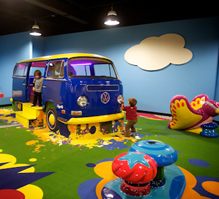 New York, NY (PRWEB) March 18, 2013
The Red Tricycle website, dedicated to helping parents have more fun with their kids, just named Frolic! among the top five indoor playgrounds in NYC! Frolic! is a rock n roll-inspired play area. PLAYTIME worked closely with Frolic! to produce their custom-designed carpet and rock-themed soft play equipment for the award-winning concept.
"PLAYTIME is so thrilled for Frolic! and the two amazing entrepreneurial women who dreamed up this concept and brought it to life," says Chris Davis, PLAYTIME Business Development Manager. "Clearly they have found a niche that is filling a need in New York City!"
Red Tricycle wrote: Hipster parents in Williamsburg already know about Frolic!, a 1,500-square-foot indoor play space that is heaven for little rockers (newborn to age six). The membership-based spot is a bit on the pricier side, but gives you value for money if you use all of the benefits, like unlimited use of the play space (wed be there every single day in winter if we could!), free special members events and class discounts.
The site continued, What makes it worth the hefty entrance price? For a start, its the only rock n roll music-themed play space in New York and it features a 1970s interactive VW bus that kids can climb all over, as well as a Rolling Stones-inspired tongue double slide. As youd expect there are musical instruments for kids to jam on and a stage for them to rock out in a pretend play concert. We think this unique indoor play space is one that you will enjoy as well as your kids.
Frolic! is a 5,000-square-foot facility with a 1,500-square-foot playground. PLAYTIMEs custom-themed, DuraSoft Safety Flooring covers much of the play space. It is bright, whimsical and even enhances a splashed paint illusion on the VW bus. PLAYTIME also created the Frolic!-designed soft play elements for the play area, including bouncy magic psychedelic mushrooms.
Indoor soft play areas are becoming more common and more popular as parents seek ways to get exercise for their kids even when the temperatures outside prohibit outdoor play.
Red Tricycle wrote, Punxsutawney Phil might have predicted an early spring, but with chilly temps and plenty of rain in the forecast, indoor play spaces are a must for beating a city dwelling kids cabin fever.
Check it out at:
Frolic! Play Space
34 North 6th Street
Brooklyn, NY 11249
Phone: 718-388-3100
Online: frolicplayspace.com
PLAYTIMEs themed soft play areas drive traffic and enhance customers' brands. Thousands of families experience PLAYTIME every day at shopping centers, restaurants, airports, stadiums, childcare, healthcare centers, fitness centers, churches, resorts, recreation centers, water parks and museums any place that kids play.