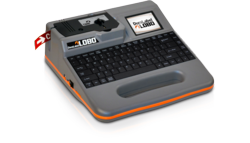 Portland, OR (PRWEB) June 18, 2013
Imagine if printing a custom vinyl label were as easy as turning on the label printer, typing something on its QWERTY keyboard, and pressing a button.
With a rechargeable Lithium-Ion battery providing more than three hours of continuous printing, as well as patented snap-in label cartridges in sizes ranging from .5″ to 2″, the DuraLabel Lobo represents a significant advancement in the grab 'n go label printer field.
Lobo snap-in print cartridges come in a large variety of commonly used colors and types of material, pulling from Graphic Products' ever-increasing library of supplies. Cartridges contain both ribbon and supply for ease of use, tailored for use in virtually any setting, with supply types designed to stand up to any industrial challenge.
Besides basic type labeling, Lobo has instant access to a library of more than 1,200 symbols and pictograms and basic design templates. The labelers firmware also allows users to create sequenced numbering and barcoding capacity. The device features a 3.5″ color screen for WYSIWYG editing, a built-in carrying handle, and a full-sized ergonomic QWERTY keyboard.
More than a year in development, Lobo is a radical departure from other DuraLabel thermal transfer printers in design, look and feel.
Were heading in a whole new direction with Lobo which aligns with 5S and lean manufacturing. 5S visual cues are used to raise awareness of proper waste handling, managing workplace hazards and explaining operating procedures, said DuraLabel chief marketing officer, Steve Stephenson.
Quick specs: