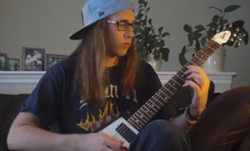 Los angeles, California (PRWEB) June 29, 2013
The team at Guitar Control.com continues their commendable teaching mission with their latest online video which could actually be considered a jazz guitar lesson. The able instructor in this 3 minute tutorial is Cameron Rasmussen and in this clip he offers up a few tips on playing things such as tritones, roots, and dominant chords. So although it may seem a tad technical for some, it is of course all part of the learning process and therefore this lesson should be suitable for pretty much any skill level.
Furthermore, since the jazz guitar lick featured in this lesson entails a playing few things that might be a little bit beyond the basics, that simply means it could be an ideal exercise for helping students improve upon several skills at once. Also, for those who dont know the terms that are being used such as tritones and 7ths, etc… Cameron explains what these things are as hes showing how to play them with what he calls a tritone substitution lick. Also, jazz guitar tabs are included which can come in quite handy by pointing out where to place each finger on the fretboard.
Presently, thanks to the internet and companies like Guitar Control, whenever someone wants to find out about the six-string, all they have to do is get online in order to start learning. Seeing as though they currently have over 315 complimentary videos and counting on You Tube, this company certainly has a whole lot to select from. So whether wondering how to play jazz guitar or practically any other style, it may be smart to start by browsing through their stockpile of informative guitar lessons!
Related Guitars Press Releases