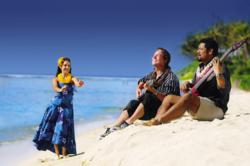 San Rafael, CA (PRWEB) June 13, 2013
Often encapsulated as the Sound of Maui, HAPAs music evokes a place that many people at different times, have referred to as heavenly. The overriding quality of their music is one of beauty and serenity, found in the majestic tones of the oli (chant), mele (song), the elegant movements of the sacred dance known as hula, and the exhilarating innovative sounds of virtuoso slack key guitar. Tonight's concert offers a trip to Hawaii through music.
Video
The evening will open with a Hula dance performance and lesson offered from Halau Hula Na Pua O Ka Laakea.
The beautiful and safe Swig Field is surrounded by Marin hills and begs for picnicking, but will offer the choice of purchasing delicious as well as affordable meals on-site from San Rafaels own Mauna Loa Hawaiian BBQ pop-up Restaurant. No alcohol is allowed to be brought in, but is available for purchase.
The theme is Hawaiian Islands, and audience members are encouraged to wear their favorite Hawaiian shirts.
The Marine Mammal Center hosts the Kid Zone, offering up an art project and ocean education along side the playground for youngsters. A Georgi & Willow pop-up shop will offer festival shopping and add to the full Marin community experience.

Special guests will include Marine Mammal Center and County of Marin employees.
Ticket Information:

Tickets are available online or by calling 415.444.8000