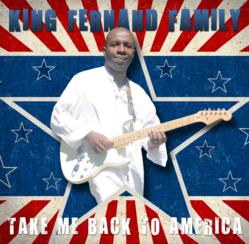 (PRWEB) July 08, 2013
KING FERNAND FAMILY- Out of the melting pot
King Fernand Family is an artist whose music reflects the rich diversity of his home town: New York City. Now he has been living in the Lakeland, Florida area for the past thirteen years. Here is a man who grew up surrounded by myriad musical influences – all of which can be heard on his stunning new album.
"Take me back to America" the forthcoming album from King Fernand is a mix of all the things that make the Big Apple such a musical Mecca. It is an R&B and Commercial Rock with a mix of tunes that will appeal to everyone's taste. It is urban music, with more than a smattering of soul, funk and dancefloor sensibilities. It is also the sound of a talented artist finding his true voice and bursting into the mainstream. King Fernand's influences include everyone from Jimi Hendrix, Marvin Gaye and Albert King to disco legend's Chic and Earth, Wind and Fire. As with the finest modern urban music, all of these wonderful artists can be heard in the "Take me back to America." Although King Fernand's own voice – his incredible ear for harmony, his uniquely catchy guitar riffs – can also be heard. "Take me back to America " is out this summer. But its first single, also called "Take me back to America," is already available. This is a song with a message of hope and of love for the country. It is an urban tune with an instant dance floor appeal for music lovers of all ages. An introduction to King Fernand's unique melting pot of styles, there can be better songs.
INFO
But the album contains a plethora of likely hits besides. These include instant party classic "Quality Time" and the harder rock of "Charisma." There are five R&B songs and three that have a more commercial rock feel. King sings lead vocal on "Play that Song," "Suzanna," "Charisma," and "One more time," and backing vocals on the rest of the album, behind a series of guests vocalists.
Having studied and been involved in music for more than a decade, fronting both hip hop and rock bands, now is King Fernand's time to shine for himself.
"Take me back to America " is a record that will allow him to do exactly that.
The album is available on Amazon , Google Play and Artist Hub. Check out King Fernand Family at: .kingfernandfamily.com, Soundcloud, Twitter, Facebook or contact King Fernand Family at kingfernandfamily(at)gmail(dot)com for a taste of the future. You won't be disappointed.
Check out the new music video for "Take me back to America"

http://www.youtube.com/watch?v=16FveMM-Eoc