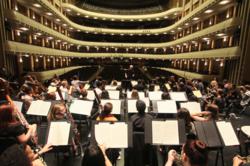 Las Vegas, Nevada (PRWEB) May 17, 2013
On May 15, 2013, Las Vegas Academy of Arts received the Outstanding Arts School Award from the Arts Schools Network (ASN), the nations largest professional membership organization of specialized arts schools. This award is presented to an Arts Schools Network member school with an outstanding record of overall excellence in the categories of faculty and student achievement, community recognition and involvement, arts and academics integration, curriculum innovations, continuing growth and development, and state and national recognition.
Las Vegas Academy (LVA) is a nationally recognized, award-winning magnet high school, dedicated to education in performing and visual arts and serving approximately 1,700 students in Clark County, Nevada.
"The Las Vegas Academy is thrilled at being chosen for this award. Our faculty, staff, parents, and students have worked hard to produce more than 250 shows this year. We are delighted for this national recognition," said Scott Walker, Las Vegas Academy Principal.
Located in the center of the Las Vegas Historical District, LVA serves students in grades 9 through 12. The school is a public school for which no tuition is charged. LVA is part of the Clark County School District, and all students must meet specific criteria for admission: completing an application, auditioning in their chosen performing major (theater, dance, instrumental music, vocal music), preparing a portfolio (visual arts), and passing an aptitude test (music theory, pedagogy). Audition processes were developed by visual and performing arts educators with the goal of finding talented students with the innate skills and potential to enthusiastically embrace a professional and collegiate education. After acceptance, the students are provided with an opportunity to pursue a major in band, vocal music, dance, guitar, international studies (French, Japanese, and Spanish), mariachi, orchestra, photography, piano, studio art, technical theatre, theatre, visual design, and World Jazz studies. LVA is a five-star, high achieving, exemplary academic school of distinction offering major courses of study in the performing arts along with rigorous academic courses.
The Outstanding Arts School Award will be presented during the annual Arts Schools Network Conference, October 22-25, 2013, at NYUs Tisch School of the Arts, in New York City.
Dedicated to excellence and leadership in arts education, Arts Schools Network is a dynamic resource for arts schools leaders, innovative partners and members of arts education institutions. A non-profit professional organization founded in 1981, ASNs mission is to promote excellence in arts education by supporting and recognizing students, leaders, educators, schools, institutions, and organizations. ASN has provided communications, programs, services, conferences and events to support these goals for over 30 years. Visit the website at http://www.artsschoolsnetwork.org to learn more.