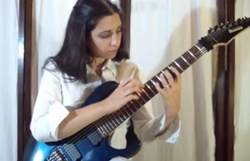 Los Angeles, CA (PRWEB) July 02, 2013
Guitar Control, the company that specializes in virtual guitar lessons via the internet and low cost deliverable DVDs, has recently posted another complimentary clip on You Tube that teaches how to play pentatonics with tapping. Simply put, pentatonics are scales that contain 5 notes, and tapping is a technique in which the strings are of course tapped with the fingers instead of being plucked with a pick.
Alejandra Mesliuk is the instructor in this lead guitar lesson and although it only lasts for around two minutes, thats all the time it takes for her to teach the tapping technique it entails. Alejandra is a remarkable guitarist that resides in Argentina and shes actually been formally trained in playing music herself, so now she has apparently decided to share her knowledge with everyone else who is looking to learn the guitar.
Also, the pentatonic scale exercises that are taught in this clip can be a very effective form of practice for practically any skill level of guitarist, regardless of what style of music they prefer to play. Even though they may be a bit challenging, thats why persistence and regular practice are so important when attempting to become proficient at playing the six-string.
As most people are already aware, the internet isnt just a place for entertainment and emailing anymore, as nowadays somebody can also receive an actual education and/or find reliable information in cyberspace. Thanks to Guitar Control and their talented team, people can finally learn the guitar on their own time schedule, not to mention from the comfort of their own home, or basically anywhere else in the world for that matter!
Find More Guitars Press Releases