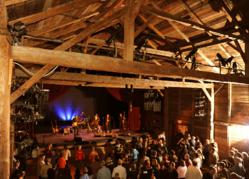 Vienna, VA (PRWEB) April 11, 2013
Patty Larkin

Thursday, May 2 at 8 pm

$ 22
Songstress and master guitarist Patty Larkin brings her bluesy, jazz-infused urban sound to The Barns at Wolf Trap. A guitar maven in her own right, the Berklee College of Music alumna was awarded an Honorary Doctorate of Music and is hailed for her inventive compositions on the slide, acoustic, and electric guitars. Larkins eclectic style and spirited lyrics have landed her 11 Boston Music Awards. In 2010 she released her album 25, celebrating Larkins 25 years in the music industry, 25 favorite love songs, and 25 friends who made guest appearances on the album. The lineup included musicians Rosanne Cash, David Wilcox, Shawn Colvin, and Mary Chapin Carpenter all of whom are veterans of the Wolf Trap stage. Larkins music has also appeared on screen in the film Sliding Doors (1998) and in the ABC show Men in Trees.
Video: Patty Larkin Wolf at the Door
26th Annual Evening of Comedy

Featuring:

Jimmie JJ Walker

Kelly Monteith

Mitchell Walters

Friday, May 3 at 8 pm

Saturday, May 4 at 7 pm & 9:30 pm

$ 25
Jimmie JJ Walker
New York comedian Jimmie Walker brings his signature catch phrase Dyn-o-mite! in a hilarious stand-up performance with improv stars Kelly Monteith and Mitchell Walters at The Barns at Wolf Trap. Named Comedian of the Decade in the 1970s by Time magazine, Walkers work extends far beyond stand-up. In addition to headlining comedy clubs, Walker has appeared on television shows and films, including The Tonight Show, Good Times, Airplane!, and most recently The George Lopez Show, Everybody Hates Chris, and Scrubs. Walker was the first winner of the NAACP Image Award and was nominated for a Golden Globe for Best Supporting Actor in a Comedy Series for his work in Good Times.
Kelly Monteith
Internationally renowned comedian and television star Kelly Monteith possesses extraordinary charm and wit. A graduate of the Pasadena College of Theater Arts, Monteiths career as a comedian and actor spans more than 35 years. He has collaborated with the likes of Bill Cosby, Loretta Lynn, Aretha Franklin, and Tony Bennett, and has had the privilege of performing for Queen Elizabeth II and Princess Margaret. In addition to his live shows, Monteith starred in his own BBC television series Kelly Monteith, regularly appeared on NBCs The Tonight Show, and hosted CBSs late-night show No Holds Barred. His efforts in Kelly Monteith garnered him the Silver Rose at BBC at the Montreux Television Festival in Switzerland.
Mitchell Walters
Headlining comedian Mitchell Walters invites audiences to participate in an evening of laughter and mental ingenuity at The Barns at Wolf Trap. An established entertainer, Walters regularly performs on tour and contributes to sketches for A-list comedians such as Richard Pryor, Joan Rivers, George Wallace, Jay Leno, Jimmie Walker, and Garry Shandling. No stranger to both stage and screen, Walters has appeared on The Tonight Show, Comedy Centrals Rascals Comedy Hour, Showtime, and MTV. Most recently, he co-wrote and starred in the film Uncle Melvins Apartment, winner of Best Screenplay by the Hoboken International Film Festival (2011) and Best Comedy Feature by the Downtown Boca Film Festival (2011).
Tickets can be purchased by calling 1(877) WOLFTRAP; or online at http://www.wolftrap.org.

For more information, call The Barns at Wolf Trap at (703) 938-2404 or our general information line at (703) 255-1900.
###