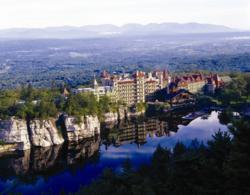 New Paltz, NY (PRWEB) May 29, 2013
Mohonk Mountain House invites children of all ages to ditch the digital world and get outside for a Summer of Discovery in the pristine wilderness of New Yorks Hudson Valley, just 90 miles north of New York City. Offering tailor-made programs for kids and teens, the historic Victorian castle resort is a haven for various outdoor pursuits, including hiking, swimming, boating, gardening, treasure hunts, and fishing.
The award-winning Mohonk Kids Club is a fully-supervised program that encourages children to explore the outdoors and make new friends in Mohonks unique environment. Children choose among several activities each day, including spending time at the Childrens Garden where kids can Scratch and Sniff plants, sit on a Sod Sofa, watch potatoes grow in the Eco-TV, and observe the butterfly garden. The Mohonk Kids Club meets daily during the Summer of Discovery program from 9:30 a.m. to 12:30 p.m., and from 2:00 p.m. to 5:00 p.m. Evening events, geared for ages 4-12, take place from 7:00 p.m. to 8:30 p.m.
The Teen Program for ages 13-17 features rock scrambles, golf and tennis clinics, hikes, teen bike tours (additional charge), the Cereal Treat Build-Off, and supervised evening activities such as Guitar Hero