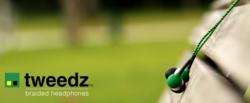 Austin, Texas (PRWEB) May 22, 2013
Tweedz, an audio lifestyle company, has revealed a new lineup of Braided Headphones inspired by vintage guitar cables that come in 3 fashionable color combinations:


Red with black and yellow accents
Green with black and yellow accents
Pink with black and white accents
Tweedz are designed to combine premium sound quality with eye-catching style. Tweedz product design is about more than just fashion. The high quality nylon braiding reduces wire tangles, increases durability, and is long enough that you can comfortably keep your iPod in your pocket, said CEO Reed Wotiz. Every pair also comes with 3 sizes of silicon earbuds to ensure a snug, noise-isolating fit regardless of ear size because no 'one size fits all' approach ever works.
Tweedz was born when 2 musicians were shopping for guitar cables and realized that the nylon tweed patterns would be the perfect wire for headphones. After more than a year of product development, they launched their lineup of Red, Green, and Pink nylon wrapped earbuds.
For more information please visit Tweedz.com.
About Tweedz, LLC
Tweedz is a global designer and marketer of headphones which are available online and in boutique retail stores. They debuted their Green Earbuds first and quickly followed up with Red and Pink. Tweedz has made a name for itself by creating unique, colorful headphones that stand out in a crowded marketplace. Follow them at @TweedzHeadphone where they do monthly contests to win free headphones.