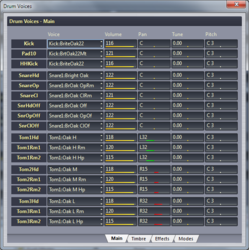 Buena Park, CA (PRWEB) May 02, 2013
Yamaha today introduced new John Melas-designed editing software for the acclaimed DTX700 drum trigger module.
The DTX700 Editor, available for Windows and Mac OSX, allows users to customize all of the internal sounds as well as any user-uploaded files in the DTX700 electronic drum kit sound module, making programming and editing of custom kits a simple process. In addition to editing the most critical sound parameters, a DTX700 Librarian is included so that musicians can easily arrange and save their newly created kits with a convenient graphic interface.
The intuitive software package eliminates the need for time consuming multi-page navigation on the trigger module screen, letting users modify the sounds and features, helping to foster creativity. Exceptional graphics enhance the editors features and all edited DTX programs can easily be saved on a computer.
These tools offer drummers a powerful and easy-to-use solution for editing and managing their DTX700 sounds, said Tom Griffin, Yamaha Electronic Drum Product Specialist. With this software, users can streamline the process of customizing their kits to their specific preferences and spend more time playing them.
Melas, a software engineer based in Athens, has a long history with Yamaha, programming applications for the MOTIF Synthesizer Workstations, MOTIF Effects Racks, the S90 stage synths and the MOX synths, among others.
For more information, write Yamaha Corporation of America, Music Production, P.O. Box 6600, Buena Park, CA 90620-6600; telephone (714) 522-9105; or visit http://4wrd.it/usayamaha.
# # #
About Yamaha
Yamaha Corporation of America (YCA) is one of the largest subsidiaries of Yamaha Corporation, Japan and offers a full line of award-winning musical instruments, sound reinforcement and home entertainment products to the U.S. market. Products include: Yamaha acoustic, digital and hybrid pianos, portable keyboards, guitars, acoustic and electronic drums, band and orchestral instruments, marching percussion products, synthesizers, professional digital and analog audio equipment, Steinberg recording products and Nexo commercial audio products, as well as AV receivers, amplifiers, Blu-ray/CD players, iPod docking systems, home-theater-in-a-box systems and its exclusive line of Digital Sound Projectors. YCA markets innovative, finely crafted technology and entertainment products and musical instruments targeted to the hobbyist, education, worship, professional music, installation and consumer markets.