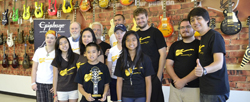 Lyman, SC (PRWEB) February 02, 2013
Yellow Mama Music, a premier guitar store in Lyman, South Carolina, recently announced that it is offering a layaway program.Customers simply make a reasonable percent down payment on the quality instrument, amp or accessory of their choice and are able to pay the remaining balance in installments. This new layaway program signals another step in Yellow Mama Music's success in providing superior customer service and high quality instruments for their customers.
"We cater to our customers and make them feel like they are a part of our family," said Robert Woods, owner of Yellow Mama Music. "Our friendly, knowledgeable staff is happy to help you select the right item."
Yellow Mama Music carries a wide variety of guitars, drums, amps and accessories. They have an extensive selection of new and used guitars, from electric, acoustic, and vintage guitars to bass guitars and mandolins. Their 11,000 square foot showroom houses an impressive collection of Epiphone guitars and Fender's finest products, including their solid body electric guitars, their reputable Stratocaster and Telecaster, electric bass guitar, acoustic guitars, mandolins, banjos and electric violins.
Yellow Mama Music will trade for high quality items. They also offer a variety of other music services, including a full line of accessories and instruction books, as well as quality music instruction. For complete information about all Yellow Mama Music products and services, visit the store's website at http://www.yellowmamamusic.com.
About the company:

Yellow Mama Music is the Guitar store that has all the musical supplies needed for a musician. A full line of accessories and instruction books are carried. They take immense pride in our new shop and are firmly convinced we have come to the right location. They offer a variety of music lessons by qualified teachers for Beginners to Intermediate. For more information, please visit their website at http://www.yellowmamamusic.com.